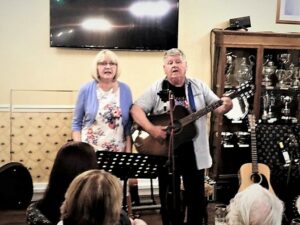 Tony and Anne Toy are now the Organisers of the club and have been residents of the folk club since the Folk at the Prospect days. Relatively new to the folk club scene since 2001, they bring a mixture of genres to the club, from Contemporary Folk , Country, Irish and 60s songs. They perform mostly as a duo with both on vocals, and Tony on guitar (Sometimes Bouzouki.) Their songs have a more country/folk feel to them, with the odd self penned ones by Tony. Their influences include Christy Moore, John Prine, Iris Dement, Eric Bogle, Anthony John Clarke, Dr Hook, The Beatles.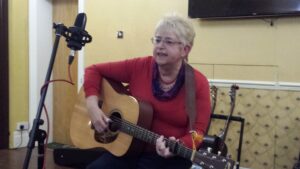 Christine Hanslip, along with her husband Roger were also the founder members of Folk at the Prospect, and hail from deepest darkest Lancashire. With Roger taking on the role of organiser from the beginning. Roger doesn't sing but has been known to read out monologues on occasions. Christine however has a lovely voice and is an excellent guitarist and often accompanies other singers on her guitar at the club. She has a great range of material from Music Hall, Traditional, American Folk, 60s Folk. Christine also performs with Carol Coxon as a duo, and their songs and harmonies are a joy to hear. Influences, The Everlys, Richard Thompson, Ralph McTell, Traditional Folk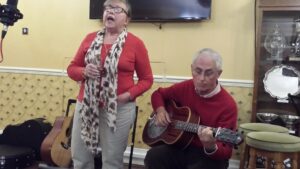 Carol and John Coxon are two of the original founders of the club when it was known as Folk at the Prospect. Originally from the North East of England, they've been resident in Runcorn since the 70s. They generally play as a duo with John on guitar and bouzouki ( Beautiful ones, made by John himself.) Carol also sings unaccompanied, and sometimes as a duo with one of our other residents, Christine. Carol and John's songs understandable have a strong North East influence, but their repertoire includes Traditional, Contemporary folk, a bit of Blues & Jazz and the odd Humorous song thrown in. Influences, include The Incredible String Band, Jez Lowe, Dick Guaghan & Sandy Denny. With Johns excellent playing and Carols great vocal range, we have with us, two great performers.
The Prospectors ( Maureen  & John Byrne  Sue & Roy Warburton )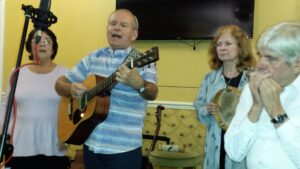 John ,Maureen, Roy & Sue took their name The Prospectors from the folk clubs former location The Prospect Inn, and have decided to keep the name. The four, from Widnes add a mix of Traditional, Contemporary and some of Johns own songs to the evenings. With John on guitar, Roy on harmonica and Mo & Sue on vocals and percussion. Roy also plays harmonica solo, and accompanies many of our regulars with his subtle playing. They can always be relied upon to liven up proceedings with rousing chorus songs. With a mixture of Folk, Country, Gospel. Their influences vary from Hank Williams, Bram Taylor, Irish music and more.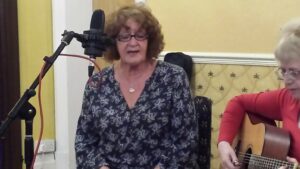 Gloria became a regular at The Prospect after moving house close to the pub. Coming originally from Paisley in Scotland, she has brought with her songs from north of the border. Initially singing unaccompanied, she is now mostly accompanied on guitar (sometimes vocals) by Christine. Her repertoire of Scottish ballads, Traditional songs and a mix of contemporary material along with her lovely voice and great vocal range add something different to an evening. Influences, Sandy Denny, Joni Mitchell, Bob Dylan, Richard Thompson, Judy Dinning.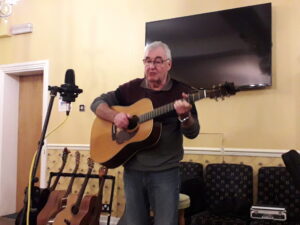 Eric Rafferty. A long time regular at the club. A singer guitarist who hails from the North East ( Hartlepool to be exact) He has been known in song (unaccompanied with all the actions) to sympathise with the monkey hangers of Hartlepool. With a leaning to Traditional and Contemporary Folk. Eric's influences range from Woody Guthrie, Bob Dylan, Jez Lowe, & Dougie MacLean. Accompanying himself with his fingerpicking guitar style he gives great renditions of the aforementioned artistes' songs, in his own way. A great character, with a good sense of humour.